Allen-Vanguard is a leader in providing customized solutions for defeating Radio Frequency (RF) based terrorist and extremist threats; these include the continued global threat posed by Radio Controlled IEDs (RCIEDs) and the increasing prevalence of Drones (Unmanned Aerial Systems (UAS)) used for both nuisance and more lethal means. Defense Forces, Public Safety & Security agencies around the world trust our capability solutions to provide integrated capabilities to help save lives every day. 
All of Allen-Vanguard's capabilities are developed and delivered in conjunction with domain knowledge experts and intimate support is provided by our Field Service Representatives, who are subject matter experts in the field of RF protection systems. Their front-line experience in combat theatres, law enforcement and intelligence ensures that customers receive the analysis, advice, training and support necessary to foresee and prevent current and emerging threats.
Users worldwide trust Allen-Vanguard capabilities for protection of personnel and facilities to ensure safe and secure freedom of movement as they complete their dangerous missions. Our operationally proven systems are developed in close collaboration with end users, tested to provide the highest levels of assurance and supported worldwide to ensure maximum operational availability.
To learn more about how Allen-Vanguard can provide your organization with a customized and integrated solution, please contact your authorized Allen-Vanguard representative today.

Mike joined Allen-Vanguard as our Electronic Warfare Director in November 2004 after having served over 28 years in the Canadian Army.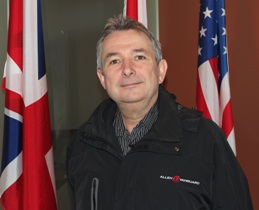 President/General Manager Electronic Systems
Mike spent the majority of his career in the fields of Signals Intelligence (SIGINT) and Electronic Warfare (EW). Career highlights include Officer Commanding the Canadian Detachment at the National Security Agency at Ft George G. Meade in Maryland where he was employed in the Operations Directorate. He also served at the Medina Regional Security Operations Center (MRSOC), San Antonio, Texas. In addition to his operational duties, he was a member of the Board of Directors of this 1800 plus organization that was responsible for strategic direction and planning for a multi-service organization that included Army, Marines, Airforce, Navy and civilian personnel. In 2002 Mike was selected for a tour in Afghanistan as the Officer-in-Charge of the multi-national Signals Intelligence Electronic Warfare Operations Center (SEWOC) and ECM/EW advisor to the Kabul Multi-National Brigade Commander and also served as the Senior Signals Intelligence officer for Canada.
Mike has served in a variety of positions at Allen Vanguard, including engineering team lead for the UK, ECM program director, ES Business Develop Lead, as well as his current role of President and General Manager.
Head Office & International Sales
Address
2405 St. Laurent Blvd, Suite K
Ottawa, Ontario
Canada K1G 5B4
Address
Allen House (Unit 100 A & B)
Ashchurch Business Centre, Alexandra Way, Tewkesbury, Gloucestershire 
United Kingdom GL20 8TD


©2023 Allen-Vanguard Corporation. All Rights Reserved. ISO 9001:2015 Certified (Canada & UK).