Field Service Representatives
Tailored mission support service for Electronic Countermeasure (ECM) system updating and testing.
FIELD SUPPORT
Allen-Vanguard is fully aware that by its nature, ECM is a life-saving piece of equipment. As such the company is committed to supporting our customers and equipment in the field to ensure the systems are properly maintained, functional and operational availability is achieved.
The level of support AV provides varies depending on customer's fleet size, requirements and the degree of repair and maintenance training their personnel have received. We have been involved in complex Integrated Logistic Support (ILS) programs requiring the deployment of 40+ full time, in-theatre Field Service Representatives (FSRs) to maintain a fleet in excess of 6000 systems, to the provision of an annual service visit by one our technicians to a customer with a fleet size of four systems.
AV's support concept is based on three (3) levels of maintenance and repair:
Organizational (O-Level) – Conducted in the field by trained end users – Pre-mission checks and regular Preventative, Maintenance Checks & Services (PMCS)
Intermediate (I-Level) – Conducted in the field by AV FSRs (visiting/deployed) or AV trained customer technicians – Inspections, diagnostics, fault finding, repair to Line Replaceable Unit (LRU), software and firmware upgrades.
Depot (D-Level) – Conducted at AV repair facilities in Canada and UK by ECM technicians – Inspection, diagnostics and repair of LRUs and main units down to board level
Allen-Vanguard has the facilities, processes and resources in place to support its equipment now and into the future.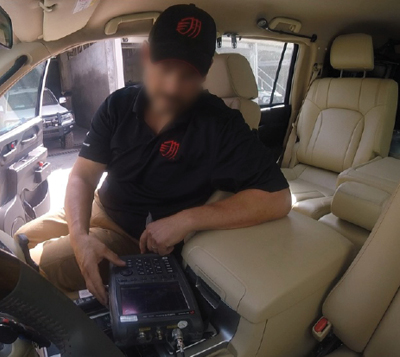 VEHICLE INTEGRATION
Allen Vanguard has conducted hundreds of installations of its ECM systems into customer's vehicles at their locations, in operational theatres and at our facilities. These installations have included military and civilian pattern vehicles, armoured and non-armoured, covert and overt fits.
Whilst there are generic components of any ECM vehicle installation (i.e. ECM equipment, antennas, cabling, power management system) each type of vehicle presents unique challenges and customers may have additional requirements that will also impact on the installation.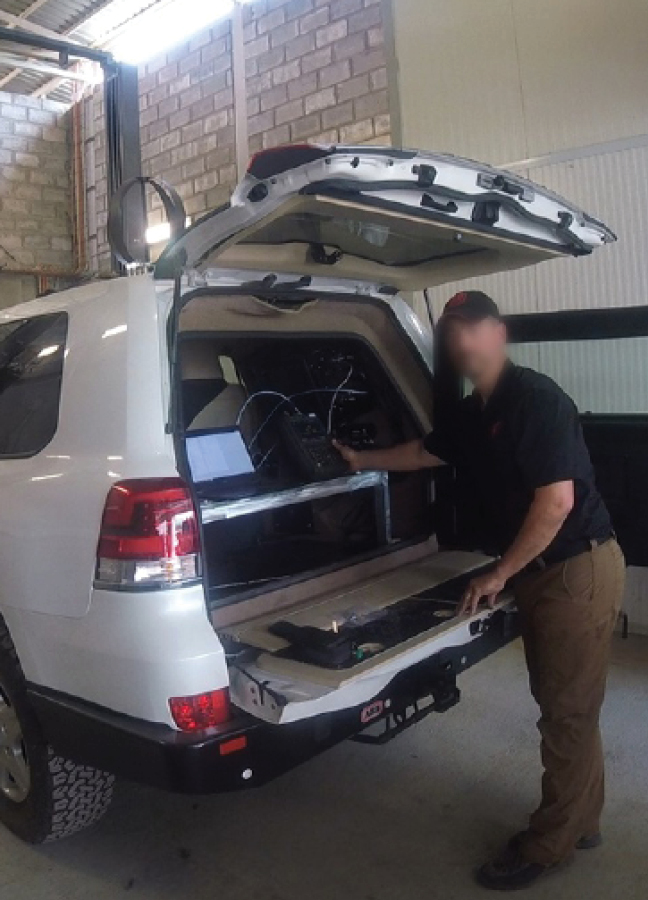 AV therefore always recommends that a vehicle integration study be conducted prior to the design of any ECM Vehicle Installation Kit (VIK) and its subsequent implementation. The study, amongst other things, will identify:
      The best location for the equipment to minimize space claim and impact on its occupants.
      Types of antennas required, placement of the antennas to provide optimum coverage, whether they            are fixed, erectable or magnet mounted.
      Availability or requirement for ground plane
      Power, antenna and RCU cable routing
      RCU placement
      Requirement for power management system, secondary alternator and high idle kit
      Requirement for environmental protection case and cooling system
      Requirement to be interoperable with existing C4I equipment such as communications and asset                  tracking systems that may require additional modifications such as in-line filters.
On completion of the installation AV's engineers will conduct comprehensive testing (commissioning) of the vehicle and its ECM system to ensure that it is fully functional and operating within acceptable standards.
TRAINING, SOP/TTP DEVELOPMENT
In addition to maintaining the equipment, it is also essential that it is operated and employed correctly by the end user, if not; at best it could be ineffective and at worst dangerous.  Allen-Vanguard has a training team consisting of former military ECM Operators, Explosive Ordnance Disposal (EOD) Operators and ECM technicians with extensive real-world experience of tactically employing and supporting ECM in operational environments.
The team has been involved in long term ECM training programs with the Canadian Department of National Defence (DND), US Marine Corps, Australian Defence Force, US State & Local Bomb Squads and the Federal Bureau of Investigation (FBI), as well as delivering individual training courses to customers around the world.
There are a number of "off the shelf" courses that can be offered, designed for different roles and applications, however custom training programs can also be developed, including Train The Trainer (T3) packages. Training is normally conducted at end user locations but can be delivered at AV facilities in Canada or UK if required. Courses offered:
      EOD/IEDD ECM Operators Course
      C-RCIED/ECM Advisors
      ECM Force Protection Course
      Allen Vanguard ECM Systems Manager Course
      Allen Vanguard ECM Technicians Course
For those customers to whom ECM is new capability, the training team can also assist in the development of policy, doctrine and Standard Operating Procedures (SOPs) that detail how this equipment is to be incorporated and employed within their organization and its operations.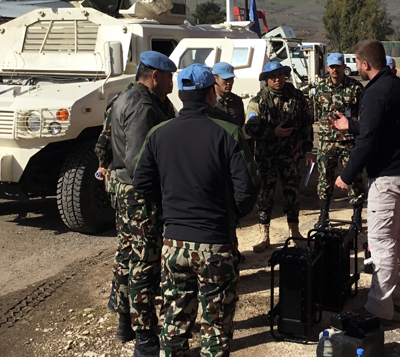 How We Can Help
Allen-Vanguard is a leader in providing customized solutions for defeating terrorist and extremist threats, including Radio Controlled IEDs (RCIEDs) and Unmanned Aerial Systems (UAS). Defense Forces, Public Safety & Security agencies around the world trust our Counter-Threat Solutions and Mission Systems to provide integrated capabilities to help save lives every day.
To learn more about how Allen-Vanguard can provide your organization with a customized and integrated solution, please fill out the contact form to reach Allen-Vanguard today.
Head Office & International Sales
Address
2405 St. Laurent Blvd, Suite K
Ottawa, Ontario
Canada K1G 5B4
Address
Allen House (Unit 100 A & B)
Ashchurch Business Centre, Alexandra Way, Tewkesbury, Gloucestershire 
United Kingdom GL20 8TD


©2023 Allen-Vanguard Corporation. All Rights Reserved. ISO 9001:2015 Certified (Canada & UK).