Every member of the Allen-Vanguard team contributes to protecting the lives of men and women around the world against lethal threats.
WHY JOIN ALLEN-VANGUARD?
The answer is simple. Every member of the Allen-Vanguard team contributes to protecting the lives of men and women around the world against lethal threats from Radio Controlled Improvised Explosive Devices (IEDs).
Front line personnel worldwide trust our battle-proven equipment to help complete their mission and protect their citizens against terrorists and extremists. That's a responsibility we take very seriously and it motivates us to deliver products, training courses and intelligence services that are best in class.
If you're looking for a career that matters and a sense of purpose to your work, then consider joining Allen-Vanguard. You'll work in a fast-paced environment, alongside world-renowned experts, develop your skills with leading edge technologies and be part of a team that makes a real difference.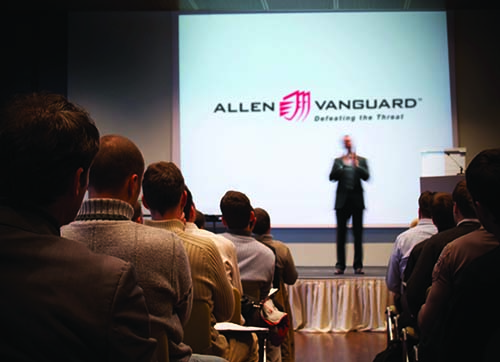 In addition to a competitive compensation plan, we provide superior benefit options that are designed to reduce stress by addressing your health care and financial needs. 
A flexible benefits plan that allows you to tailor coverage to suit your needs
A pay structure that is applied across the global organization with an emphasis on internal equity
A retirement savings plan with employer matching after the first year
Rewards programs to recognize high performance
A commitment to policies and practices that help maintain a productive work/life balance, including many positions that allow for a hybrid work schedule
Allen-Vanguard Corporation is an equal opportunity employer, committed to diversity and the principles of employment equity and affirmative action. Allen-Vanguard is committed to providing a work environment that is supportive of independence, dignity, integration and equal opportunity and remains diligent in ensuring the application of these same standards when dealing with contractors, customers, service providers and visitors to our offices.
I am interested in working at Allen-Vanguard.

How do I submit a resume?
Our preference is that you submit your resume online through our electronic system. Click here to view our current opportunities and follow the steps.
What will happen to my resume after I submit it to Allen-Vanguard?
All resumes will be entered into our electronic resume database. Applications to specific positions will be reviewed and evaluated by the recruiter assigned to that position. Our recruiters continually search this database for resumes that most closely match our current hiring needs.
We encourage you to submit your resume even if you don't see an opportunity that matches your interests. Our staffing team will then have your information on hand if an opportunity arises for which you are a match.
What is the interviewing process?

When will I hear back from you?
If your education, experience and skills are aligned to any of our job requirements, you will be contacted for an initial telephone conversation to discuss the proposed opportunity. Based on our prescreening process, selected candidates are then invited for in person interviews. Once a final candidate has been identified, references are checked and an offer is made.
If a job is posted on this website, does this mean it is still open?
Yes. Our website is updated immediately as positions are filled or become available.
Head Office & International Sales
Address
2405 St. Laurent Blvd, Suite K
Ottawa, Ontario
Canada K1G 5B4
Address
Allen House (Unit 100 A & B)
Ashchurch Business Centre, Alexandra Way, Tewkesbury, Gloucestershire 
United Kingdom GL20 8TD


©2023 Allen-Vanguard Corporation. All Rights Reserved. ISO 9001:2015 Certified (Canada & UK).