In The News – 23 February 2022
DroneShield and Allen-Vanguard Partner across C-UAS and C-IED space

DroneShield Limited (ASX:DRO) ("DroneShield" or the "Company") an Australian/US provider of Artificial Intelligence based platforms for protection against advanced threats such as drones and autonomous systems and Allen-Vanguard, a US owned provider of C-IED solutions with facilities in the UK & North America, have today announced a partnership between their companies.
Both companies are respective global leaders in their fields. DroneShield's C-UAS solutions include a variety of multi mission AI-powered C-UAS platforms such as RfPatrol™ body-worn sensor, DroneGun™ portable countermeasure, DroneSentry-X™ on-the-move system and DroneSentry base protection system. Allen-Vanguard have an extensive C-IED history and portfolio of solutions that has been bolstered in recent years by their ANCILE™ C-UAS system, an operationally proven and highly effective RF Countermeasure.
Oleg Vornik, DroneShield CEO, commented, "Many of our customers have mission sets that require both C-UAS and C-IED solutions. By combining our solutions, both from technical and commercial distribution point of view, we can provide a more complete offering to the existing respective customers of both companies, as well as collaborate on channels to market. There are presently a number of active combined opportunities that we are excited to be pursuing."
Michael Dithurbide, Allen-Vanguard President, commented, "Allen-Vanguard comes from a rich, multi-decade C-IED heritage, providing scores of Tier 1 militaries globally with effective and robust capability solutions. With C-UAS a rapidly rising and often overlapping threat, we are pleased to partner with DroneShield, a leader in this space, to collaborate from a technical and commercial perspective to meet the exacting needs of our global customer base.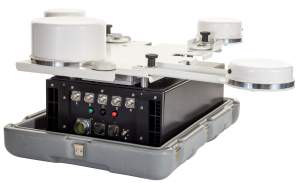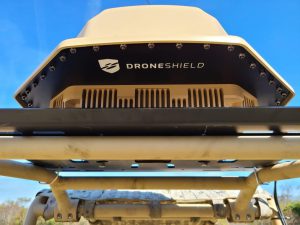 Images: Allen Vanguard ANCILE™ and DroneShield DroneSentry-X™
FURTHER INFORMATION
Bobby Strawbridge
Director Business Development
Email: info@allenvanguard.com
Tel: +1 613 739 9646; Tollfree: 1 800 644 9078
Oleg Vornik
CEO and Managing Director
Email: oleg.vornik@droneshield.com
Tel: +61 2 9995 7280
ABOUT DRONESHIELD LIMITED
DroneShield (ASX:DRO) provides Artificial Intelligence based platforms for protection against advanced threats such as drones and autonomous systems. We offer customers bespoke counterdrone (or counter-UAS) and electronic warfare solutions and off-the-shelf products designed to suit a variety of terrestrial, maritime or airborne platforms. Our customers include military, intelligence community, Government, law enforcement, critical infrastructure, and airports
globally.
Head Office & International Sales
Address
2405 St. Laurent Blvd, Suite K
Ottawa, Ontario
Canada K1G 5B4
Address
Allen House (Unit 100 A & B)
Ashchurch Business Centre, Alexandra Way, Tewkesbury, Gloucestershire 
United Kingdom GL20 8TD


©2023 Allen-Vanguard Corporation. All Rights Reserved. ISO 9001:2015 Certified (Canada & UK).